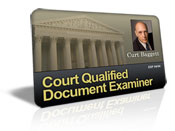 Curt Baggett is court qualified and certified by the American Institute of Applied Science and the American Bureau of Document Examiners.
Curt has examined documents and/or testified in every state in the USA and over a dozen countries. He has offered opinions on almost 4,000 cases since 1990 and has appeared in court as an expert witness nationwide on those cases that needed his testimony.
Curt Baggett has appeared on such respected national TV programs as "Texas Justice", CNBC, and even CNN.